Creating a wildflower meadow
Dienstag, 26. Oktober 2021 •
What to say in advance: A lawn and a flower meadow have little to do with each other. Meadows are the result of decades or even centuries of farm management. They are grasslands that were mowed once or twice a year, fertilized moderately with manure, and as a result have a stand that is much less dense and compact than today's intensive grasslands. Flower meadows are structured so that the plants grow up tall, but at the same time plenty of light comes through to near the ground.


Flower meadow with meadow ragwort, red campion and gossip poppy
.
As soon as one, as it is usual today in the agriculture, more frequently mows and must fertilize consequently more, one has the effect that above all grasses and nutrient-loving plants such as dock and dandelion grow more densely and so the tender meagre plantlets lack the light and bring them to the disappearance.

In the same way, leaving the meadow fallow, i.e. abandoning its use, leads to the extinction of these small light-demanding species, because in autumn the uncut stand falls to the ground and forms a dense, matted cover.
So creating a flower-rich meadow is a balancing act between overused and not used at all. Knowing this is an advantage if we want to convert our lawn or parts of it into a flower meadow.

Different methods to create a flower meadow.
Mow the lawn only once a year, in late September/early October. Be sure to remove the cuttings! In this way, the soil is slowly depleted, and the more tender meadow plantlets, in addition to the grass, get a chance to germinate and grow.

The method is very tedious, although you can help a little by cutting off sod in some places - about one square meter each, and thus create open ground. Here one can spread then suitable initial plants or seeds, e.g. also the rattle pot, a grass parasite, which pushes back the grass in natural way.
Shaggy Clapper Pot (Rhinanthus alectorolophus)
For the method where you can get to the target faster, you usually need heavier equipment. With excavator, tiller or peeler you remove the turf completely.
.
Of course, if you have only a small area, you can do the whole thing by hand. The best way to do it is like this: One stabs the sods spade-deep and deposits them on one side. Then dig one spade deeper and deposit this soil on the other side. In this way, you can reverse the layers. The nutrient-poor, weed-free! Soil comes to the top, and forms there an ideal substrate for a species-rich flower meadow.
. As already mentioned in the blog post
"create a lean site"
: most meadow flowers love a nutrient-poor soil - only on this lean soil they have any chance at all to withstand the competitive pressure of the grasses and fast-growing herbs of the rich meadows.
It is actually already a law, if you look at our flora:
The leaner the site, the higher the species diversity
.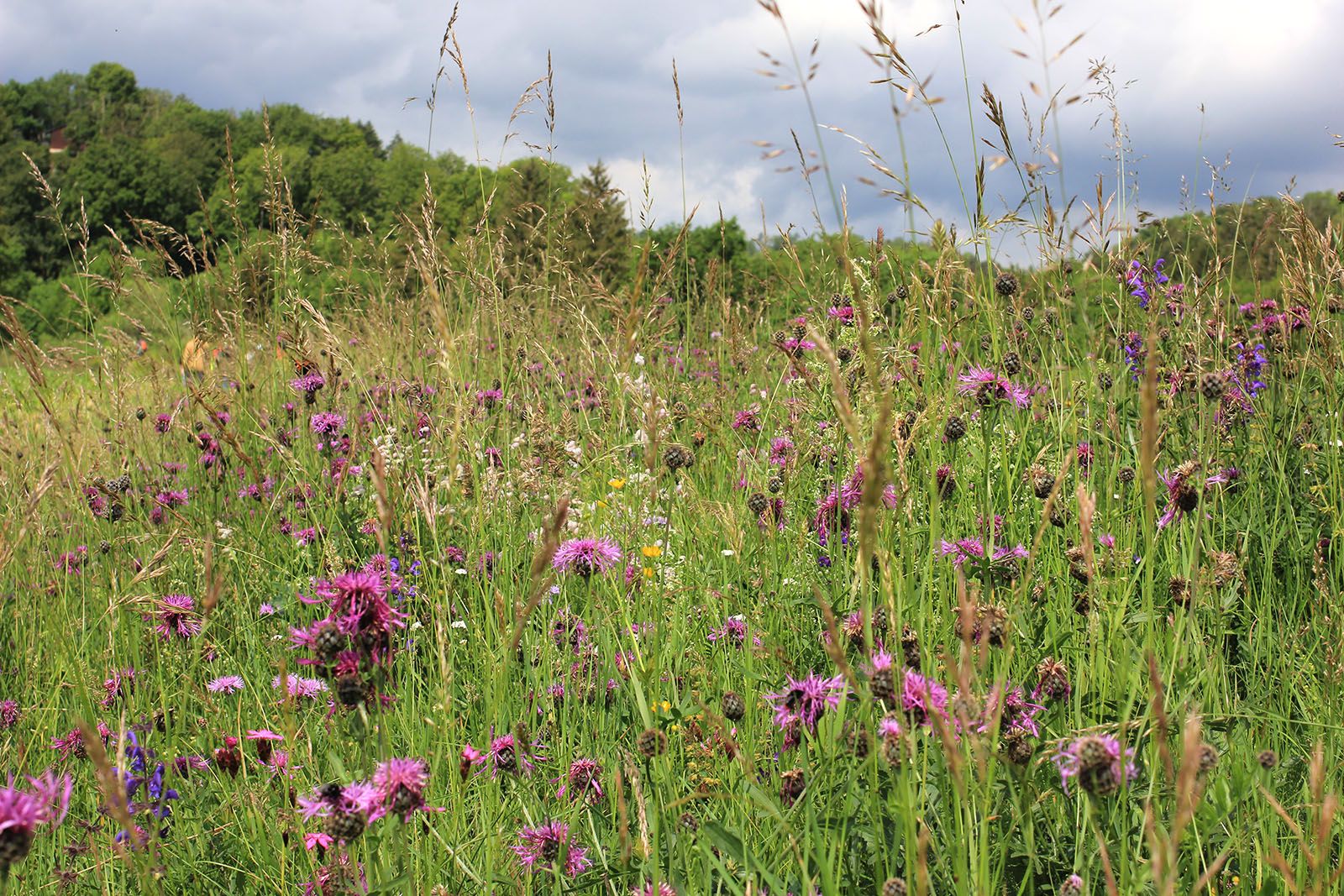 Lean meadow with meadow knapweed and meadow sage
.
According to the method of the Swiss Johannes Burri (therefore also called "Burri method"), you mill the lawn twice in summer, four weeks apart. After the first tilling, allow the spontaneous flora to germinate and trench or go over it a second time with a rake. Stubborn root weeds such as couch grass, thistle, dock and bindweed must be removed manually. This will result in a wildflower bed that is ready for seeding.
The soil should be allowed to settle for at least four weeks before sowing.
. You can also read the somewhat more detailed description of this method at
www.ufasamen.ch/de/wildblumenwiesen/wertvolle-tipps
.
If the soil is very rich in nutrients, spread another 5-10 cm of sand over the area and mix it in with the exposed soil.
A side note: most cities have a composting plant where people's delivered green waste is composted under controlled conditions. You can get certified, weed-free compost here, which is always an ideal seeding substrate.
On the day of sowing, go over it again with a rake, so that the soil becomes nice and crumbly, or you spread the above-mentioned compost 1-2 cm thick, work it into the area and sow 1-2g/sqm of wild herb seeds in it. In order to distribute these few seeds evenly on the surface, mix the seeds with sand or another organic filler. This small amount of seed seems like very little, but it is just right if the stand is quite patchy to begin with. It looks a little puny the first year, but it's still a good thing because it allows the individual plants to develop optimally.
Important: Make sure that it is genuine wild plant seed and adapted to the regional vegetation. Sources of supply for it are at the end of the contribution.
Pretty "flower meadow" seed bags from the discounter usually contain a lot of exotic species. So not the plants with which our animal world has gone through a common evolution. They are therefore often neither suitable as pollen donors nor as caterpillar food plants.
From here on it goes on in real time ;-)
You see, I started tackling a piece of our lawn as a "flower meadow" project in November 2020. It is kept so small that I could still manage it well, that is, without using machinery and thus without major costs, with spades and muscle training.
November 2020
So you can now witness one on one how the experimental area - hopefully - develops over time into the desired species-rich wildflower meadow.
The project will be updated throughout the year with current photos - through trial and error, we are sure to learn a thing or two.
February 2021
To the left of the larger area (about 16sqm) I have prepared another experiment with strip seeding. A method that is also often practiced in the open countryside for larger areas. It has the simple advantage that you do not have to turn over everything at once and still more species richness can be brought into an existing economic meadow. For such areas one usually takes seeds without grass portion or in any case a smaller portion of sub-grasses than otherwise usual in flower meadow mixtures.
March 2021
On the prepared area, as a sowing substrate, I still worked in a thin blanket, about 1-2 cm, of weed-free green compost mentioned above. On a beautiful spring day, exactly on Easter Sunday, so the 4.4.2021, the two areas were then sown.
Seeding 4.4.2021
After seeding, it is important that the seeds make contact with the ground. On larger areas you have to go over it with a roller, here on this small one you get it done just as well with an upside down shovel or you tread the seed carefully with your feet.
In the next few weeks, it will now depend heavily on the weather in what to do. The sowing should not dry out too much until emergence and in the first weeks after. So - either it rains or you have to reach for the watering can.
This is what the "meadow" looked like on June 9
.
At the beginning of June, I did a so-called cupping cut - that is, I drove with the lawn mower set high over the, as predicted, somewhat puny grown meadow. This has the sense that the faster high growing grasses do not become too dominant.
Otherwise, I have, contrary to the opinion of Johannes Burri, after namely no weeds need to be weeded, pulled out some dandelions, piglet weed and white goosefoot.
In the first weeks I watered from time to time, but with these torrential rains in the last weeks is could stop that pretty soon.
So far the current status - here you will find, as I said, every now and then an update as the meadow develops unforeseen - so stay tuned! :)
Literature:
Haft, Jan: The meadow - call to a mysterious world
publisher: penguin, 2019
By the way, there is also a phenomenal cinema film
to the book.
And what else Reinhard Witt has to say on the subject:
www.reinhard-witt.de
12 mistakes you can do whilst creating a wildflower meadow
sources of supply for regional wildflower seeds:

www.rieger-hofmann.de
www.lebensinseln-shop.de
(kleinere Quanten von Rieger-Hofmann-Saatgut)
www.syringa-pflanzen.de
www.natur-im-vww.de/bezugsquellen/graeser-und-kraeuter
www.naturgartenvielfalt.de
(Kerstin Lüchow)
cover photo: Gabriele Lässer auf pixabay
Wiese mit Acker-Witwenblume, Hornklee, Wilder Möhre
Blumenwiese mit Königskerzen, Reseden, Margeriten...
Vergleich Einjährige Blühmischung – Wildblumenmischung, s. Reinhard Witt, Literaturtipps